These refreshing tropical smoothie bowls are the perfect way to soak up the summer before it's gone. Delicious and easy to make, they're sure to please!
---
While smoothies might be a summer staple, we enjoy them all year long—they're quick to prepare and can deliver a lot of nutrition in one delicious drink. This one packs a healthy punch with nutrient-dense foods like spinach, blueberries, and cacao for a range of beneficial vitamins and minerals. Chia seeds add omega-3 fatty acids, and collagen powder* contains amino acids that boost skin elasticity and joint health. The best part of this smoothie is that it tastes like a chocolate peanut butter cup in a glass! Okay, maybe it's not quite that decadent—but it definitely tastes like a treat,...
---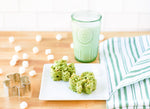 Our dairy-free superfood treats use nutrient-packed ingredients for a healthy (and colorful!) update to this tasty childhood treat.