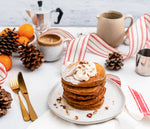 We can't think of a breakfast dish that says "Christmas" more than these warmly spiced gingerbread pancakes. Cloves, ginger, cinnamon and nutmeg add a perfect blend of holiday flavor that adults and kids alike will enjoy. It's hard not to love a pancake that tastes like everyone's favorite holiday cookies!
We made ours with our Regenerative Organic Pasture Raised Eggs, and they work beautifully in this recipe. And since they come from our certified Regenerative Organic farms, you can feel good about helping the earth while you whip up a batch of these delightful pancakes! Visit this link to learn more about why Regenerative Organic matters for our planet's future.
Serves 6
INGREDIENTS
2 cups all-purpose flour
1 1/2 tsp baking powder
1/2 tsp baking soda
1/2 tsp salt
2 1/2 tsp ground ginger
1 1/2 tsp ground cinnamon
1/4 tsp ground nutmeg
1/4 tsp ground cloves
1 cup water
1/4 cup milk (vegan or dairy)
1/2 cup unsulphured molasses
1/3 cup vegetable oil
Toasted pecans, chopped
Powdered sugar (for serving)
Plain vegan yogurt (for serving)
Maple syrup (for serving)
DIRECTIONS 
In a large mixing bowl stir the flour, baking powder, baking soda, salt, ginger, cinnamon, nutmeg and cloves together.
In a large measuring cup, whisk together water, milk, molasses, eggs and oil. Pour the egg mixture over the dry ingredients and stir just until it comes together. Do not overmix.
Heat a pan or skillet over over medium high heat and pour about 1/4 cup of batter for each pancake. The batter will spread out so leave room in the pan. They are ready to flip when small bubbles begin to appear on the surface.
Turn the pancakes over and cook for another 3-4 minutes until golden brown.
Serve warm with your favorite toppings and enjoy!