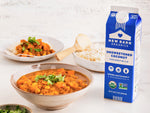 This delightful winter curry is so warming on a cold December night!  It's made with butternut squash and chickpeas, seasoned with aromatic spices like madras curry and garam masala. A tomato base combines perfectly with our Unsweetened Coconut Milk, for a vegan meal that's as hearty as it is delicious.
---
This yummy alfredo sauce is so rich and delicious, you won't miss the dairy at all! Bright veggies and earthy mushrooms make this dish an especially satisfying meal for fall. Ease into autumn with this dairy-free dish your whole family is sure to love!
---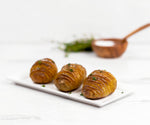 We've been seeing the Hasselback potato all over social media lately, and it's no wonder. This Swedish take on the baked potato, known in Sweden as the Hasselbackspotatis, is roasted to perfection. Hasselbacks taste like a cross between crispy French fries and a buttery baked potato, but with a much more elegant presentation at the table. And they're very simple to make! When choosing a potato variety, we recommend Yukon gold or other flavorful yellow potatoes for this recipe. Russets are also delicious, though this larger variety may require a longer roasting time. A range of cooking times is provided below so you...