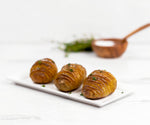 We've been seeing the Hasselback potato all over social media lately, and it's no wonder. This Swedish take on the baked potato, known in Sweden as the Hasselbackspotatis, is roasted to perfection. Hasselbacks taste like a cross between crispy French fries and a buttery baked potato, but with a much more elegant presentation at the table. And they're very simple to make!
When choosing a potato variety, we recommend Yukon gold or other flavorful yellow potatoes for this recipe. Russets are also delicious, though this larger variety may require a longer roasting time. A range of cooking times is provided below so you can tailor the recipe to the potatoes you're working with.
To garnish the finished potatoes, we love to sprinkle coarse salt (our favorite is Maldon sea salt) over the crispy tops once they've been removed from the oven. Any herbs will work, though our favorites are woody herbs like thyme, tarragon, or rosemary. Their robust flavor is a nice complement to the earthy taste of the potatoes.
INGREDIENTS
8 large potatoes
6 tablespoons melted Buttery Spread
Coarse flake salt (to taste)
Freshly ground pepper (to taste)
Minced fresh garden herbs
INSTRUCTIONS
Preheat the oven to 425°F, arranging the rack in the bottom third of the oven.
Wash and dry potatoes thoroughly, keeping the skin intact.
Cut several parallel slits about 1/4" apart into each potato, stopping just before you cut through so that the slices stay connected at the base. Take care not to slice all the way through the bottom of the potato. You can use a chopstick or a toothpick on either side of the potato as a guide to know when to stop slicing (here's a helpful how-to video).
In a small saucepan, melt the Buttery Spread over low heat until liquid.
Brush the potatoes with about 2/3 of the melted spread, including the bottoms. Make sure it gets in between the potato slices so they brown evenly.
Arrange the potatoes in a 13x9 baking dish and sprinkle the potatoes with salt and pepper to taste.
When the potato slices begin to separate (about 30 minutes), remove the pan from the oven and brush the potatoes again. Take care to be gentle with the layers as they are quite delicate during this stage.
Bake another 30 to 45 minutes until the potatoes are crispy on the edges and easily pierced in the middles with a paring knife or toothpick. Sprinkle some additional salt and the chopped herbs over the top 5 to 10 minutes before the end of cooking.
Total baking time is 60 to 75 minutes, depending on potato variety.
Serve immediately and enjoy!