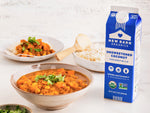 This delightful winter curry is so warming on a cold December night!  It's made with butternut squash and chickpeas, seasoned with aromatic spices like turmeric, madras curry, and garam masala. The tomato base combines perfectly with our
Unsweetened Coconut Milk
 for a vegan meal that's as hearty as it is delicious.
Prep Time: 30 minutes  ::  Cook Time: 60 minutes
Total Time: 1 hour 30 minutes
Serves 4

INGREDIENTS
1 lb butternut squash, peeled and diced

2 Tbsp vegetable oil, divided

1/2 tsp salt

1/2 tsp freshly ground black pepper

1 red onion, roughly chopped

2 cloves garlic, roughly chopped

1" ginger, roughly chopped

1 1/2 Tbsp madras curry powder

2 tsp garam masala

1/2 tsp turmeric powder

1/2 tsp chili powder

1 15 oz. can finely diced or crushed tomatoes

1 15.5 oz. can chickpeas, drained

1 cup vegetable stock

1 cup Unsweetened Coconut Milk

1/4 cup cilantro for garnishing
DIRECTIONS
Preheat oven to 400ºF.




Place the cut butternut squash on a roasting pan and toss with oil, salt and pepper. Roast for approximately 35 minutes or until cooked through; set aside when done.


In a food processor, combine the onions, garlic and ginger and process until a paste is formed. If some pieces of onion remain, that's ok.

In a large pot over medium heat, warm the remaining vegetable oil. Once the oil is hot, add the onion paste to the pot. Stir continuously for approximately 5 minutes, or until the paste is starting to turn golden. If the paste browns too quickly before the 5 minute mark, slightly reduce the heat.





Add the spice powders on low to medium heat and stir frequently for 1 minute, taking care not to burn the spices.

Add the tomatoes and stir well. Continue to stir for an additional 4-5 minutes, until the tomatoes have broken down further and have started to turn a darker shade of red.

Add the chickpeas and stir thoroughly.

Add the vegetable stock and boil for 3-4 minutes until slightly reduced.

Stir in the coconut milk until well incorporated, and then gently add the roasted butternut squash to the pot.

Add salt and pepper to taste. Garnish with chopped cilantro leaves and enjoy!