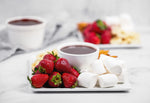 Chocolate-dipped strawberries are a perennial Valentine's Day favorite, and for good reason. The flavor of the tart fruit combined with rich chocolate is the perfect match. Chocolate makes everything better. And on a day celebrating love, we couldn't think of a better way to treat ourselves than enjoying an entire plate full of things to dip in chocolate.
So, we whipped up a recipe for dairy-free chocolate fondue that is to die for. Our testers adored the rich chocolatey taste, and couldn't tell it wasn't made with dairy milk chocolate (it's that good). The key is using our Barista almond milk: it's rich and creamy all on its own, creating the perfect base for the melted chocolate chips. Of course, you can always use one of our Unsweetened almond milks instead if you'd prefer a slightly less sweet treat.
The best part about chocolate fondue – other than the chocolate – is choosing which food to dip next. We recommend prepping a broad array of treats, including things like berries, marshmallows (we love Dandie's), pretzels, bananas, wafers, mandarin oranges, madeleines... you can get creative and have fun with it!
If you don't have fondue forks at home, wood skewers are a perfect substitute. Even toothpicks will work. There's no need to be fancy; just relax and enjoy! This fondue is fun for families too, and you can take turns sharing which dipper is your favorite once you've sampled them all. Our favorite is always the strawberries!
INGREDIENTS
12oz semisweet dairy-free chocolate chips (we prefer Guittard for this recipe)
1 c. Barista almond milk
pinch of sea salt
1 tsp vanilla extract

DIRECTIONS
In a double boiler (or a bowl-in-saucepan substitute), combine chocolate chips, almond milk, and sea salt and melt slowly over medium-low heat. Stir gently but consistently until thoroughly melted; consistency should be smooth and creamy.
Remove from heat and stir in vanilla extract, mixing thoroughly.
Serve warm and enjoy!