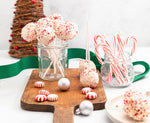 Peppermint cake pops are the perfect holiday treat! Made using vegan white chocolate and our Unsweetened Almond Milk, our dairy-free version is garnished with crushed peppermint candy for a delicious (and completely vegan!) dessert.
This recipe is fun to make with kids, especially when it comes to breaking apart the cooled cake and mixing in the frosting! Originally invented by Angie Dudley of Bakerella, cake pops are made by baking a cake and then tearing it apart to mix it with frosting. This mixture is then shaped into balls, chilled in the fridge, and dipped in extra frosting for a yummy "lollipop" cake treat! The crushed peppermint coating makes these cake pops especially lovely to serve at holiday parties.
Whether you're serving kids or adults, it can be fun to dip and decorate the cake pops as part of a holiday gathering. We recommend preparing the pops in advance and keeping them chilled until it's time to dip and enjoy!
Makes about 3 dozen cake pops
INGREDIENTS
For the White Cake:
2 2/3 cups all purpose flour 
1 1/2 cups sugar 
1 Tbsp baking powder
1/2 tsp salt
1 1/2 cups Unsweetened Almond Milk 
1/2 cup vegetable oil
1 tsp vanilla extract
For the White Chocolate Ganache:
For assembly:
Crushed peppermint candies*
Cake pop sticks
*Note: To crush peppermint candies, place them in a food-safe baggie or between two sheets of parchment paper and smash into pieces using a mallet, rolling pin, or another solid object. Here's an example.
DIRECTIONS
Preheat oven to 350F. Spray and line a 9 x 13 rectangular cake pan with parchment paper.
In a large mixing bowl, stir together the flour, sugar, baking powder and salt. In a large measuring cup, whisk 1 1/2 cups of almond milk, vegetable oil and vanilla together. Pour into the dry ingredients and mix just until combined.
Pour the batter into the prepared cake pan and bake for about 25 minutes until golden brown or when a toothpick inserted into the center of the cake comes out clean.





Allow the cake cool completely before assembling the cake pops. While the cake is cooling, prepare the ganache: Place the vegan white chocolate, 2 cups of almond milk, and salt in a heatproof bowl. Place over a pot of simmering water until all the chocolate is melted and is completely smooth.
When the cake is cooled enough to handle, crumble the cake into a large mixing bowl. Stir in half of the ganache and mix until it comes together.





Using an ice cream scoop, scoop out balls and place them on a parchment lined sheet pan. Chill for at least 1 hour.
Reheat the remaining ganache for dipping the chilled cake pops and pour the crushed peppermint candies in a bowl. Taking a few balls out at time, insert a cake pop stick in the center of each ball and dip in the ganache then the crushed peppermint candies.





Place dipped cake pops on a parchment lined sheet pan or upright on a styrofoam block until the coating is set.
Serve and enjoy!