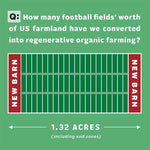 Today's World Egg Day, and we're honoring the occasion by celebrating how much land we've converted to regenerative organic agriculture with our new Pasture Raised Eggs! 
Each acre converted to regenerative organic agriculture will benefit from this healing farming method. The soil is enriched by cover crops and not tilling the land, farmers are paid fairly for their hard work, and the animals are protected by the most comprehensive third-party certified animal welfare standards available today.


With our certification through the Regenerative Organic Alliance, you can feel good about consuming our eggs because our farms have been through the ROA's vigorous process. These holistic standards look at farming as a positive way to heal the planet, and that means that every certified farm must adhere to guidelines that use peer-reviewed studies and comprehensive data to guide their required practices.


Whenever you see the ROC logo, you'll know that only the best farming practices were used to produce the food that's in the carton. We're so proud to have earned this certification for our eggs, and we celebrate them today on World Egg Day!