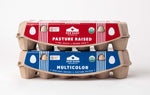 New Barn is proud to announce that our pasture raised eggs have been certified by the Regenerative Organic Alliance (ROA). As part of the NestFresh family, we're the very first nationally distributed egg brand to be Regenerative Organic certified. We couldn't be happier to be a part of the solution to climate change!
The Regenerative Organic program uses a three-tier system to restore the planet's soils, provide a living wage and safe conditions for farm workers, and protect the animals who are part of our agricultural system. New Barn's egg farms adhere to the ROA's standards which build on the USDA Organic program to improve upon the existing national standard of organic excellence.
Here's how the ROA describes its mission:
We exist to heal a broken system, repair a damaged planet, and empower farmers and eaters to create a better future through better farming.
We envision a world free of poisonous chemicals, factory farming, exploitation, soil degradation, habitat destruction, pollution, short-term thinking, corporate bullies, greenwashing, and fake food.
Instead, we imagine a world in which farmers, brands, policymakers, educators, researchers, and citizens join together to create a healthy food system that respects land and animals, empowers people, and restores communities and ecosystems through regenerative organic farming.
We agree with this mission. Our mixed breed hens are raised on traditional American small family farms, enjoying continuous access to pasture from sunrise to sunset. With at least 108 square feet of outdoor space per hen, the chickens can forage for bugs, herbs, and other natural supplements that are available to them in the pasture where they spend their days.
Our pastures are covered with soil-building plants such as clover, milkweed, dewberry bushes, and a handful of grass species like oats and rye. We sow plants in our pastures as needed and encourage the growth of native wildflowers to support pollinators. These plants also help to build the soils beneath them, sequestering carbon and increasing healthy soil matter.
The soil is further enriched through multi-species livestock integration, preventing overgrazing and overseeing earth that is never tilled or exposed to fertilizers, herbicides, or pesticides.
All of our farm workers are provided a living wage and healthy working conditions, so they can in turn provide for their families sustainably. We believe in caring for our producers, so they can care well for their small farms and the hens that live on the land they care for. By partnering with The Regenerative Organic Alliance, we've ensured the highest quality third-party certification of our commitment to regenerative organic agriculture, animal well-being and social fairness.
A better future begins with good choices. We choose regenerative organic farming, building a better food system one farm at a time and leaving the land better than we found it. In this way, we're helping the ROA to farm like the world depends on it.