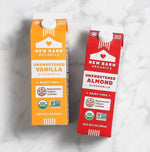 Our new Regenerative Organic Certified® almond milks were recently featured in Progressive Grocer, and we love what they had to say about our brand's mission to farm like the world depends on it:
"Almond milk pioneer New Barn Organics has introduced a line of Regenerative Organic Certified almondmilk, the first of its kind on the market... Committed to continuous improvement, new Barn Organics is espousing regenerative agriculture, a holistic farming approach that aims to rebuild soil health, increase biodiversity and promote carbon sequestration."
To read more about our new almond milks and our commitment to regenerative organic farming, click here.