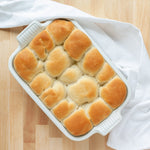 These dairy-free rolls are a perfect companion for a holiday meal. Rich and warm, they're the best non-dairy rolls we've ever tried. They're simple to make for beginners, too – if you've wanted to experiment with yeasted breads but haven't been able to find the courage to try it out, this recipe is a great place to start.
INGREDIENTS
4 c. all-purpose flour
2 packets rapid rise yeast
4 Tbsp. sugar*
1 tsp salt
1/2 c. water
4 Tbsp. Buttery Spread
1 tsp. Buttery Spread (melted, for brushing over rolls)
*You can substitute honey or coconut nectar for the sugar, if you'd prefer. Just make sure to reduce the amount of water in the recipe by 1/2 tsp's worth or so.
DIRECTIONS
Combine water, Buttery Spread, and Unsweetened almond milk in a saucepan and warm to a temperature of 120-130ºF.  Gently pour the mixture into a stand mixer equipped with a dough hook and add the yeast packets. Let sit for 2 minutes.
Add 2 cups of flour and mix on low speed for 2 minutes.
With mixer on low, add remaining 2 c. of flour, a 1/2 cup at a time, until fully integrated and a soft dough is formed.
Increase speed to high and mix for 8 minutes.
Remove dough hook and cover mixing bowl with a clean, dry towel. Place somewhere warm and away from drafts; let sit for 15 minutes.
Divide dough into 15 equally sized pieces, and shape each into a ball. Place into well-greased rectangular baking dish. Cover with a clean, dry towel, and let rise in a warm, draft-free place until dough has doubled in size (about 30 minutes).
Bake in preheated 375ºF oven for 20 minutes, or until golden brown. Remove pan from oven and brush with melted Buttery Spread. Return to oven for 2 min to brown further.
Remove from oven and allow to cool. Serve warm right from the pan.
Rolls can be frozen in a heavy-duty freezer bag to enjoy at a later date. When you thaw the rolls, warm in a 325ºF oven for 10 minutes, and brush with melted Buttery Spread.
Enjoy!