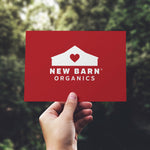 New Barn has a new look, and it's all about love.
Without love for the Earth and all of its creatures, we won't be able to reverse climate change and heal the planet. That's why we've invested in sourcing all of our ingredients from regenerative organic farms, which help to rebuild the soil while protecting the animals and people who produce our food.
Without love for our bodies, we can't nourish ourselves with organic foods that have clean ingredients. Everything we make uses as few ingredients as possible, and each of our products is 100% dairy free. Our loyal customers know that every single New Barn product is made to the highest standards possible, and they trust us to make the foods they turn to time and time again in their everyday lives.
We have deep respect for the planet. It's why we choose love every single day. With a deep belief in regenerating the planet through sustainable agriculture and other important measures, we're dedicated to doing our part to protect the Earth. We believe that food is love, and Love is Food.™