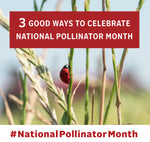 From our Regenerative Organic Certified® egg farms to the almonds we source from Burroughs Family Farms, everything we make protects the well-being of pollinators and their habitats. We love supporting pollinators, and we hope you'll join us in protecting their habitat!⁠
---
Our planet-friendly Regenerative Organic Certified® almond milks are made with almonds sourced from Burroughs Family Farms, a beautiful family homestead nestled in California's San Joaquin Valley. As the first ROC-Certified almond farm in the country, this special family is working to change the future of farming in the Golden State.     The Burroughs began working on becoming USDA Organic certified in 2006, an effort led by Rosie and Ward Burroughs that resulted in the entire farm's certification nearly a decade later. They set an example for their daughter Benina to follow, who learned about Regenerative Organic agriculture and decided...
---
We use heirloom almonds in our Almond milk, sourced from a cooperative of small family farms that use regenerative farming practices. This protects the land, helps the bees, and results in delicious almonds bursting with flavor. Learn more about our almonds!