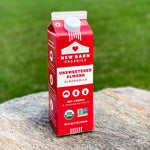 Happy Earth Day! While we believe in celebrating Earth Day everyday, we want to highlight a few things we're doing to help protect the planet. In particular, we're especially proud of our PlantCarton™ from Evergreen Packaging. We made the switch to this sustainable plant-based packaging for our dairy-free milks line in 2019, and haven't looked back since.
Here's how this progressive packaging is helping the Earth:
Our plant-fiber cartons have helped us to reduce at least 80% of the plastic from our supply chain since we switched to this sustainable packaging in 2019.
All of our packaging is 100% curbside recyclable!
Our cartons are made with sustainable plant fiber sourced from responsibly managed forests, which are third-party certified by independent organizations like the Forest Stewardship Council and the Sustainable Forestry Initiative.
100% of the fiber used in these cartons is grown and manufactured in the US, and can be traced back to the district of origin.
About 55% of the energy used to manufacture these cartons comes from biomass, a renewable energy source.
To learn more about what makes the PlantCarton™ such a sustainable packaging solution, please visit
evergreenpackaging.com
.