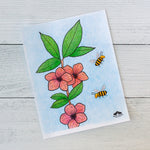 Surprise, you're a homeschooler now!! With so many of us juggling work and home responsibilities while trying to adapt to this new way of life, we thought it would be fun to offer some printable activities for parents to print out at home.
Our activity booklet includes fun puzzles, word games, a maze, and a few coloring pages. Kids of all ages should be able to find something fun to do! 
DOWNLOAD THE PDF
https://cdn.shopify.com/s/files/1/0015/2856/1699/files/NBO_activity_booklet.pdf?v=1587754054
We've been testing out the activity booklet on some of our own kids, and they've been having a blast! Below is some of their work, we love sharing what the New Barn Kids have been up to. If you'd like to share your own kids' work, tag us on social with the hashtag #nbokids so we can see their masterpieces. We can't wait to see!
DOWNLOAD THE PDF
https://cdn.shopify.com/s/files/1/0015/2856/1699/files/NBO_activity_booklet.pdf?v=1587754054