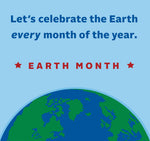 Happy Earth Month! Who doesn't love an opportunity to throw the Earth a party when it's the place we all call home?
At the same time, we believe in making planet-forward choices every day of the year. So... we're using this 
Earth Month to build some good habits that will help make a difference all year long. 
Here are a few ideas of planet-protecting habits you can easily work into your routine this month and beyond:
Switch to reusable shopping bags at the grocery store (we know this isn't a new idea, but it saves SO many single-use bags every year!!)

When you're not actively using running water, make sure to turn off the tap.

Instead of toxic window cleaning products, mix equal parts distilled white vinegar with water in a spray bottle and use it to shine up all of your glass surfaces.

Switch to using as many products with either reusable or recyclable packaging as you can.

These are just a few ideas to get you thinking about how to make simple choices that add up to long-term impacts. Making small changes as you can manage them will make it more likely that your new habits will stick, so try to choose things to work into your routine in ways that feel natural to your life for best success!