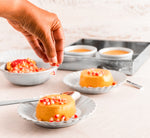 With only three days until Halloween, it's pumpkin o'clock around here. To celebrate, we're making this delicious pumpkin panna cotta – and best of all, it's completely dairy free!
"Panna cotta" is translated literally as "cooked cream". Our
organic Barista almond milk
is a perfect dairy substitute for this dessert, because its sugar content is nearly identical to what's naturally present in whole dairy milk. Though Barista was formulated specifically for use in coffee bars (it steams up so perfectly for your daily morning latte!), its ingredients also make it perfect for use in sweets like baked goods and custards. We think you'll
fall
head over heels for our autumnal version, made with pumpkin puree and delicious spices.
Our version also calls for agar powder, a
popular vegan substitute
for gelatin. A classic dairy panna cotta recipe generally calls for gelatin, which gives this dessert its wonderful texture. But many of you choose not to consume animal products, so we've substituted agar powder here to make sure that the recipe is well suited for all diets and lifestyles.
Made from seaweed
 (specifically
red algae
), agar powder is a wonderful gelatin substitute that can be readily found in many grocery and health food stores, and can also be
purchased online
. We love the soft jelly-like texture that it gives this panna cotta, making this pumpkin-y treat extra yummy!
Pomegranate is the perfect tart compliment to this sweet pumpkin-infused treat, and it's even more delicious when you know how healthy it is. To learn how to best open a pomegranate, see below for the link to a helpful how-to video.
Prep Time: 15min • Cook Time: 2-3 hours • Total Time: 2.25-3.25 hours
Makes 4 individual ramekins
INGREDIENTS
Vegetable oil of your choice

2 c. New Barn Organics Barista almond milk

1/4 cup granulated sugar

1/3 c. pumpkin puree

1 tsp vanilla extract

1/2 tsp ground cinnamon

1/4 tsp ground ginger

1 Tbsp agar powder

Pomegranate arils* (for garnish)
*NOTE: For instructions on how to remove these from the pomegranate fruit, watch this helpful video.
DIRECTIONS
In a large pot, on medium heat, combine the almond milk, sugar, pumpkin puree. Whisk until well blended (approximately 2-3 minutes).

Bring the pot to a simmer and add the spices, stirring gently.





Add the agar powder and stir for 1-2 minutes, or until the powder has fully dissolved. 

Remove pot from heat and carefully pour contents into 4 ramekins, thoroughly coating the interior of each with vegetable oil beforehand (so the batter doesn't stick when you remove each cooked panna cotta from its mold).





Place the ramekins in the refrigerator to cool until firm, at least 3–4 hours but preferably overnight.

Place a small plate over each ramekin and turn the ramekin over to remove the panna cotta. If it doesn't release easily, run a sharp knife along the sides of the ramekin before turning upside down.

Sprinkle with pomegranate arils and enjoy!