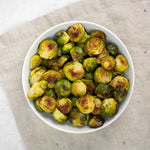 Brussels sprouts have a well-deserved reputation for being healthy. These cruciferous sprouts are rich in nutrients like Vitamin C, Vitamin K, and folate, and they're high in fiber as well. But they have another reputation that they don't deserve: so many of us think they aren't tasty!
The key to bringing out the naturally delicious flavor of Brussels sprouts is in the cooking. The sprouts have sulfur-containing compounds that can taste bitter if cooked improperly, so it's important to use a method that will neutralize these compounds (we're partial to roasting). This guide is a great place to start when learning about how to prepare Brussels sprouts.
Our favorite way to cook Brussels sprouts is to roast them in the oven. We coat them in our Buttery Spread to bring them to a gentle crisp, roasting them until they're cooked through and beautifully browned. This spread is high-heat tolerant and has a delicious buttery flavor, and a touch of turmeric adds a subtle golden hue. It's ideal for roasting veggies, crisping them to perfection.
To serve these roasted sprouts at a holiday table you can add some roasted pecan halves and cranberries, tossing them in once the sprouts have been removed from the oven. You can also add some roasted shallots for a more complex dish.


INGREDIENTS
1 1/2 Brussels sprouts
3 Tbsp. Buttery Spread, melted
3/4 tsp. sea salt
1/2 tsp. caraway seeds


DIRECTIONS
Preheat oven to 400ºF. Melt Buttery Spread in a small saucepan.
Trim off the bottom ends of the sprouts and remove any yellow or damaged leaves. Slice each sprout in half lengthwise.
Place halved sprouts in a large bowl, coating thoroughly with melted Buttery Spread. Add salt and caraway seeds, mixing just until sprouts are thoroughly coated. (Overmixing will damage the leaves.)
Arrange sprouts on a sheet pan lined with parchment paper, spreading them out into a single layer. For the crispiest sprouts, flip each half onto its flat side before placing the pan in the oven.
Roast for 20–25 minutes until they're tender on the inside and nicely browned on the outside. The smaller sprouts will roast more quickly, so you may want to remove them from the tray earlier and return the larger sprouts to the oven for further roasting.
Once sprouts have finished roasting, serve warm and sprinkle with more salt. Enjoy!